We have so many amazing things happening at OJCS. Here are some of the highlights from our Rosh Chodesh Nisan assembly.
Before we kicked off the assembly we had to give a big OJCS 'Good Luck' to all of our grade 7 & 8 students who were off to the Regional Science Fair Competition with Mr.Ray. We are SO proud of each of each student- what an amazing example of student innovation!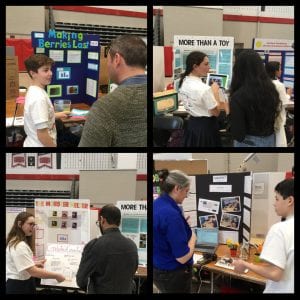 Our Assembly was MC'ed by 3 of our OJCS Knesset (Student Council). Each month the students leaders are in charge of our Rosh Chodesh assembly.
Habit #6 from Stephen Covey's 'The 7 Habits of Effective People' was introduced to the students: Synergize. Syngerize means to work together with others to accomplish a goal, while supporting one another and working to the strengths of each person. Grade 4 students introduced the habit to the school and discussed how they had to syngerize at a recent 'Kindness Workshop' with Mrs.B and Shannon LaValley from JFS.
Each month at OJCS we have a Dress Down Day where students give tzedakah to a different charity. For the month of March, the school gave tzedakah to the WE Charity to help support the Grade 6 class initiative to lead a local and global project for WE. As a school we were able to raise $250! This money will be used for health and water WE projects such as providing health care for new mothers and children and also providing clean drinking water to communities in need. We also had a WE Schools Coordinator, Jessy Mota, join us via Skype to teach us more about WE Charity and to say a big thank you to our school and the grade 6 class for their support. Way to go, grade 6! What amazing leadership.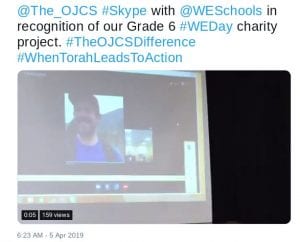 For the month of April, our students will be giving tzedakah to Beit Halochem Canada to support disabled veterans of Israel to help rebuild and rehabilitate the lives of over 51,000 Israeli veterans.
Next up we had our L.E.A.F.S (Little Environmental Action Friend Saver) team present a new green intiative at OJCS! The L.E.A.F.S, led by Mr Kom, have been meeting weekly to learn about composting. They will be starting a new composting intiative at the school where all of our paper towels in the washrooms will be placed in green bins to be composted. The student leaders from grades 1-8 on the team taught the school all about the importance of composting and encouraged everyone to do their part to keep our planet green and clean.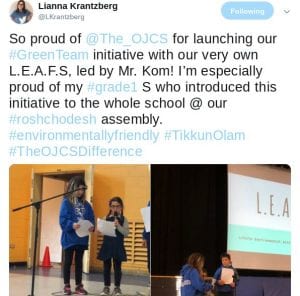 Way to go, OJCS!