Middle School
Hello Student Life! This is your vice president Shylee, writing to you guys about the basketball games and practices grades 7 and 8 have been having. 
Mr.Ray and Mr.Cinanni have been helping grades 7-8 get ready for the basketball season we will be participating in. They have both taught us many skills in basketball and helped the OJCS team improve tremendously. In practice we focus on many drills and skills to help us be greater basketball players, and if we are lucky we get to play a game at the end.
As the year has started, the grade 7 and 8s will be going to games in different schools. The girls had their first game already, and we won! It was such a fun experience, getting to play against teams that are challenging, the team building, and the feeling after you finish the games. It was all such a fun experience and I am so excited to continue the season.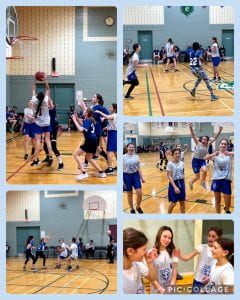 If you aren't in grade 7 and 8, get ready to try out because the basketball season will be a super fun and exciting experience!
I am thrilled to introduce our Senior Knesset Executive!
Class representatives are being chosen this week and our first Knesset meeting will be on November 9th!
How do we kick off a school year together? By going on a three day, two night retreat together. Are we crazy? No. Do we believe in relationship building and fostering a healthy Middle School community? Absolutely.
Relationship building is at the heart of what we do at OJCS. Before the math lesson (don't tell Mrs.Cleveland I said that) and mapping exercise in Social Studies, we need to ensure that our students feel a sense of belonging where they are supported, encouraged, and celebrated. Part of this is building healthy relationships with peers in their same grade, peers within the Middle School, and also the Middle School faculty.
Our theme for this year was 'friendship' because we certainly do 'learn better together' (North Star Alert) and need to synergize (7 Habits Alert) to ensure this is the best school year yet. The three days were filled with discussion, team building, rafting, hiking, praying, bonfires, and much more! Check out the retreat video on Dr.Mitzmacher's blog '2019 Middle School Retreat'.