Tikkun Olam
The OJCS Knesset Executive and Grade Representatives have been busy discussing and planning the monthly Dress Down Days along with ideas for school ruach! Dr. Mitzmacher came to visit at our first meeting to say a big welcome to the new 2018-2019 Knesset.
President and Vice-President, Daniel and Ari, led a great team building activity last week and discussed with the group ways to be a positive leader in the school. Grade representatives have been collecting ideas from their classes too to bring to the next Knesset meeting.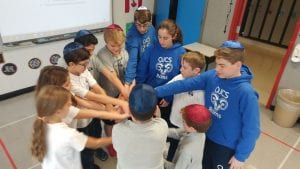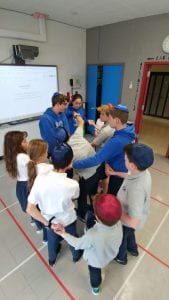 In October our Dress Down Day funds went toward the Ottawa Kosher Food Bank. We raised a total of $208! Throughout the month student brought in non-perishable food donations as well and we filled 5 bins in our school lobby!
For the month of November our Dress Down Day funds will be donated to the Tree of Life Synagogue in Pittsburgh to show our support. Students in Mr.Washerstein's classes have been writing cards to send with our Dress Down Day funds at the end of the month to the families affected by the shooting.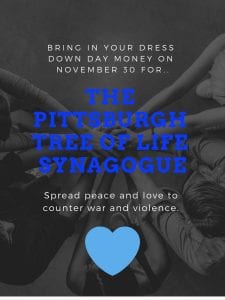 Welcome to our Student Life blog!
Wow. We have had a busy start to the school year. We are thrilled to share all exciting happenings in our school, such as: the first OJCS Middle School Retreat (check out our retreat video here), our first Rosh Chodesh assembly of the year, our amazing Sukkah Hop run by the Shinshinim, Terry Fox Run, reading buddies, Knesset elections, the soccer season (GO RAMS GO!), first field trips of the year, and much more!
This blog will be primarily run by the OJCS Knesset (now that they have been elected!). On the page you can find pictures, videos, and posts about all the ruach in the building!
Don't forgot to…
Subscribe to this blog
Read our Hadashot each week
Check us out on Twitter @The_OJCS
Follow and like us on Facebook