Holidays
Last week we celebrated the fifth night of Chanukah with about 300 members of our OJCS family.  It was a beautiful celebration of the holiday and a big thank you to our amazing Shinshinim, Liam and Inbar, with direction from Morah Ruthie for organizing the celebration. With every grade contributing to the retelling of the Chanukah story via News Flashes, videos, plays, songs, dances and more, the evening was a huge success.  Events like our Family Chanukah Night are special occasions when all of our students, faculty, administration, and faculty come together to celebrate.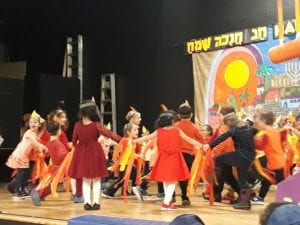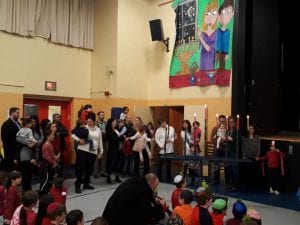 We look forward to celebrating many more happy occasions together!
Check out the weekly Hadashot newsletter or our school Twitter and Facebook pages for more pictures and news about the amazing happenings at OJCS!
Next Thursday, December 6th is the OJCS Family Chanukah Celebration!
The evening will begin at 6pm and will end around 7:15pm. We ask that all children wear shirts or an outfit that are the colours of a flame (either orange, red, or yellow). Children will be sitting with their class and teachers at the celebration to be prepared for their class presentation. We will also celebrate with all our new OJCS families this year as they are invited to the front with Rabbi Finkelstein to light the Menorah.
What does the program look like for the Chanukah Show?
Opening words from Grade 8

New families light Menorah

Opening video clip with Dr. Mitzmacher and Mrs.

Gordon

Video clip by grade 7

Skit by grade 5

Dance by grade 1

Video by grade 6

Skit by grade 4

Dance from Kindergarten

A song by grade 3

Dance by grade 2

Staff video
We look forward to seeing you next Thursday evening!
Welcome to our Student Life blog!
Wow. We have had a busy start to the school year. We are thrilled to share all exciting happenings in our school, such as: the first OJCS Middle School Retreat (check out our retreat video here), our first Rosh Chodesh assembly of the year, our amazing Sukkah Hop run by the Shinshinim, Terry Fox Run, reading buddies, Knesset elections, the soccer season (GO RAMS GO!), first field trips of the year, and much more!
This blog will be primarily run by the OJCS Knesset (now that they have been elected!). On the page you can find pictures, videos, and posts about all the ruach in the building!
Don't forgot to…
Subscribe to this blog
Read our Hadashot each week
Check us out on Twitter @The_OJCS
Follow and like us on Facebook