From November 19-25th schools and students across Ontario participated in the Bullying Awareness and Prevention Week to help promote safe schools and a positive learning environment for all students. OJCS was no exception and held our own Community of Kindness week. Each day we focused on a different theme and our own grade 6 class prepared elementary and middle school resources and discussion questions for the school.
Monday was our Community of Kindness Week Kick-Off as we focused on the theme of Chesed/What is bulling? Why is it important to be kind? Author and motivational speaker Josee Lindsay came to speak to our school about the importance of being kind and how small acts of kindness matter. She shared her book, Super Spark, with the students and how each individual has their own strengths to celebrate. Thank you to our amazing student MC's from Knesset, Jessica and Adam, for leading the kick off ceremony.
On Tuesday, our theme was Gemillut Chasadim ba-Kehillah/Being Kind is a Community Responsibility. Students in the middle school participated in a workshop with Sensei Domenic from Douvris Karate to learn more about our important OJCS North Star that we are each responsible for one another.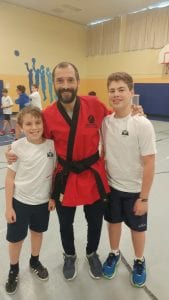 On Wednesday, our theme was Arevut/Send the Msg: Be a Responsible Digital Citizen. How to be kind to others even when using technology is an important skill to learn and discuss. We need to intentionally teach children how to engage in the online world in a positive way.
Finally, on Thursday our theme was focused on BE the Change. Our school Social Worker, Shannon LaValley, and librarian, Brigitte, started their 'Well-being Book Series' with our students in kindergarten to grade 4.  Students will be invited to the library to hear a story linked to Stephen Covey's Leader in Me 7 Habits and discuss strategies for continuing to develop each habit.
Grade 1 students also participated in a Kindness Workshop with Morah Lianna and Miss Coleman. They learned about the importance of filling an invisible kindness bucket that everyone carries!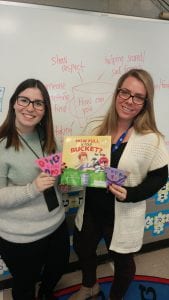 Our 'Community of Kindness' week was an important reminder that we are each responsible for one another!