Coming to OJCS on June 4, 2019…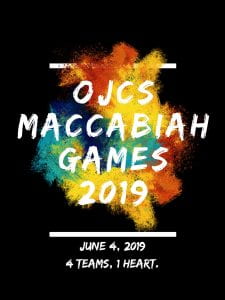 Our Colour War and Walk/Run are now one combined epic event!
Our theme is '4 Teams, 1 Heart' modelled after the Maccabiah Games '80 Countries, 1 Heart' showing that while the day is about sport, it is also about sportsmanship!
Who are the 4 teams?
Jerusalem- Team Blue!
Tel Aviv- Team Green!
Haifa- Team Red!
Netanya- Team Orange!
Which city will win the cup? Teams will earn points throughout the day for event wins, showing sportsmanship, team cheers and RUACH!
OJCS has also partnered with Maccabiah Canada for the event and Maccabiah athletes will be joining us for the opening and closing ceremonies.
Yesterday each student learned what colour team they are on to give lots of time to plan an outfit full of their team colour.
Students also received an invitiation to their school e-mail address to register & create their fundraising pages. Click on the 'GET STARTED' link in the e-mail and then follow the prompts to create the page- confirm e-mail address, create password, create fundraising page name such as 'Jacob-Team Blue' and hit submit!
This event is also our school fundraiser where students are directly involved in! Each student will have their own fundraising pages on CanadaHelps.org. For each $25 raised, students will receive a ballot for a weekly draw on Fridays for prizes such as a Menchies gift cards, Indigo gift cards, and Cineplex movie night baskets.
Students are also fundraising in their Maccabiah Games  teams. You can track of team fundraising totals at the following link: bit.ly/ojcsmaccabiah2019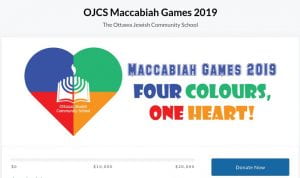 Parents are welcome to join us at the school from 3-5pm on June 4, 2019 for our Family Maccabiah Games! Come join us for some cold treats, meet Maccabiah athletes and learn more about Maccabiah Canada, and try our 65′ inflatable obstacle course with your child(ren).
Thank you to the companies who are sponsoring the event!